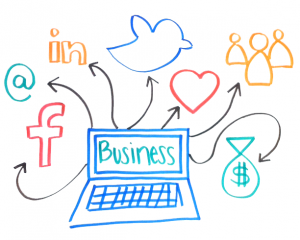 Social Media is a great way to market to your target audience and maintain a relationship with your customers. Beyond marketing, it is also a great tool to maintain your brand reputation.
At Misfit, we offer several different types of social media packages depending on your company needs and goals.
What you get wih Social Media Management:
We do all the research on niche specific topics, tips, and information to represent your company
We post regularly on your social media channels for you
We create all of the colorful eye-catching graphics to increase user engagement
We develop and design all ad campaigns for you
We research and setup all demographics to target your ads very specifically so you are paying for the highest quality clicks
Starter Package:
Our social media Starter Package is built for companies that are new to the avenue of social marketing and isn't set on which social media avenues they want to explore or whether it's beneficial for their business.
This particular package is intended for basic posting on 1 major social network such as Facebook, includes custom graphics to advertise your business, and includes weekly paid advertisement on the social network of choice ($50 minimum budget per month for advertising costs which are extra)
Engagement Package:
Our Engagement Package is designed around businesses who simply want a professional to take over their social network management to keep their accounts active and interesting for their followers.  With this package, we engage your customers, seek out new followers and avenues to expose your brand, and devote interaction to three major social networks.  You get all the bonuses of the starter package but across multiple platforms with more regular interaction.
Traffic Generation Package:
Our Traffic Generation Package is an intense package that involves daily engagement on up to 5 social networks and replaces your need for an in-house social media individual.  We put more focus on advertising your brand with well-researched audiences, we seek out interactions and discussion with B2B and B2C opportunities and detailed reports of your growth and what is working best for your business.
Lead Generation Package:
Our Lead Generation is our most devoted package intended for businesses who want to engage with their clients all day long on up to 8 social networks and generate new customers through personal attention and brand insight.  Our goal each day is to put emphasis on brand exposure through dedicated interaction at all hours in all possible avenues provided by the social networks your brand is involved in, from contests to one-on-one support for your brand to your customer.
Which one is best for my business?
If you want details on what each package entails and guidance on what package is best for your business, don't hesitate to contact us.  We can also create a custom package just for you.