Misfit Interactive loves contributing to local causes, participating in local events, and generally mingling with anyone and everyone in our area and beyond.  Don't hesitate to contact us with questions about what we do and how we support our community and small businesses around the globe.
---
"Crystal Groves, Owner, shares how the website design company can focus on their work knowing every call is being answered perfectly."
---
"In this podcast we have a fantastic dialog with Crystal Groves of Misfit Interactive.
We talk about bad social media habits to leave behind next year and the direction social media is headed.
If you are curious as to what your business should be doing to stand out on the web, you have to listen to Crystal in this show."
---
"The issues have been addressed thanks to volunteer efforts by Crystal Groves, chief executive officer of the Misfit Interactive web design firm in Gettysburg"

---
Gettysburg Times (10/2020) – "Pick of the County"
"Misfit Interactive has been picked as the #1 company for excellent customer service in all of Adams County out of 16,000 votes cast. "
---
On our next episode of @Small Biz Highlight, I will have the honor of introducing you to Crystal Groves with Misfit Interactive. They are a full service marketing agency out of Gettysburg, PA. Come learn more about her, her business and what they can do for you!
---
"I am working with clients on a lot of video creation and promotion as well as a lot of social marketing right now," says Crystal. "Given the current circumstances, it's more important than ever."
---
Whether you already have a website or are thinking about starting one, there are important things you must know. In this interview with Crystal Groves she will share "10 Things Every Small Business Owner Should Know About Their Website." It's one of your biggest business assets and it's important to consider how to protect your site and put it to work for you with the best marketing strategies!
---
Two local entrepreneurs specializing in the digital business world have some suggestions on steps businesses can take to survive.
Nathan Neil of Chambersburg and Crystal Groves of Gettysburg have put together a podcast, or webinar, to help small businesses navigate both the pandemic and the new world they feel is coming when the crisis is over.
The podcast provides not only survival techniques for today, but a view of how businesses can thrive when the pandemic is over.
---
"Misfit Interactive is celebrating five years providing online marketing solutions for small businesses – creating stellar websites, effective social campaigns, and SEO strategies"
---
Newstalk Radio (07/2019) – "Tri State Business Report"
"Misfit Interactive is the digital footprint of businesses in Gettysburg"
---
"I can look for users who may be interested in what I am posting through hashtags, which are crucial for Instagram success."
---
Adams County Community Media (01/2019) – "Community Leaders"
"On Open House we celebrate who we are and what we do. We are honored to be joined by very influential and very involved folks here in Adams County, PA"

---
"Crystal has created a company that makes small businesses stand out from the crowd. After years of experience working for creative agencies in Baltimore and Frederick, Crystal opened Misfit Interactive in 2014."
"Misfit Interactive & The Patricia Green Group Partner for New Communications Mix Misfit Interactive, a Gettysburg web design company, has partnered with The Patricia Green Group, a professional award-winning PR agency that's represented clients from all over the world."
---
Philadelphia Business Journal (06/6/2018) – Baby Boomer and Millenial Team to Bring Unique Differentiator to Communications Mix
"When a Baby Boomer PR pro decided to team up with a millennial social media expert, the magic happened. That's because Patricia Green, founder of the Patricia Green Group, and Crystal Groves, owner of Misfit Interactive LLC, recognized that their collective strengths could go far to enhance media presence for their clients."
---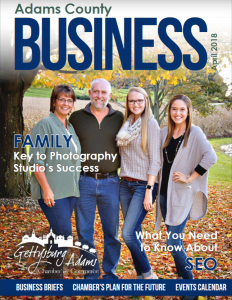 Adams County Business Journal (03/29/2018) – "What Small Businesses Should Know About SEO"
"There's a lot of internet slang out there when it comes to marketing your business, the biggest of which is "SEO." You know your business needs to be online and visible, but where to start? How can you wade through the sea of technology and make sure your business is competing with everyone else on the internet?"
---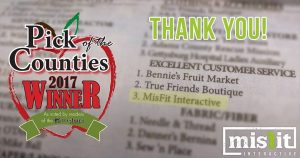 Gettysburg Times (09/29/2017) – "Pick of the County"
"Misfit Interactive has been picked as one of the top 3 companies for excellent customer service in all of Adams County out of 16,000 votes cast. "
---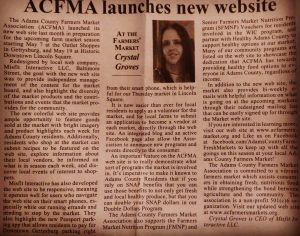 Gettysburg Times (04/18/2016) – "ACFMA launches new website"
"Redesigned by local web company, Misfit Interactive LLC, Baltimore Street, the goal with the new web site was to provide independent management of the content for the market board, and also highlight the diversity of the market products and the contributions and events the market provides for the community."
---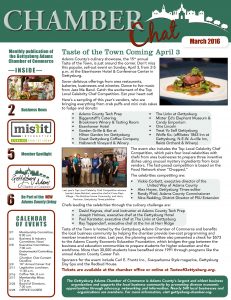 Gettysburg Chamber Chat (03/2016) – "Member Spotlight – Misfit Interactive"
"Misft Interactive was built on the premise of providing a variety of web services for small businesses but with a big business impact."